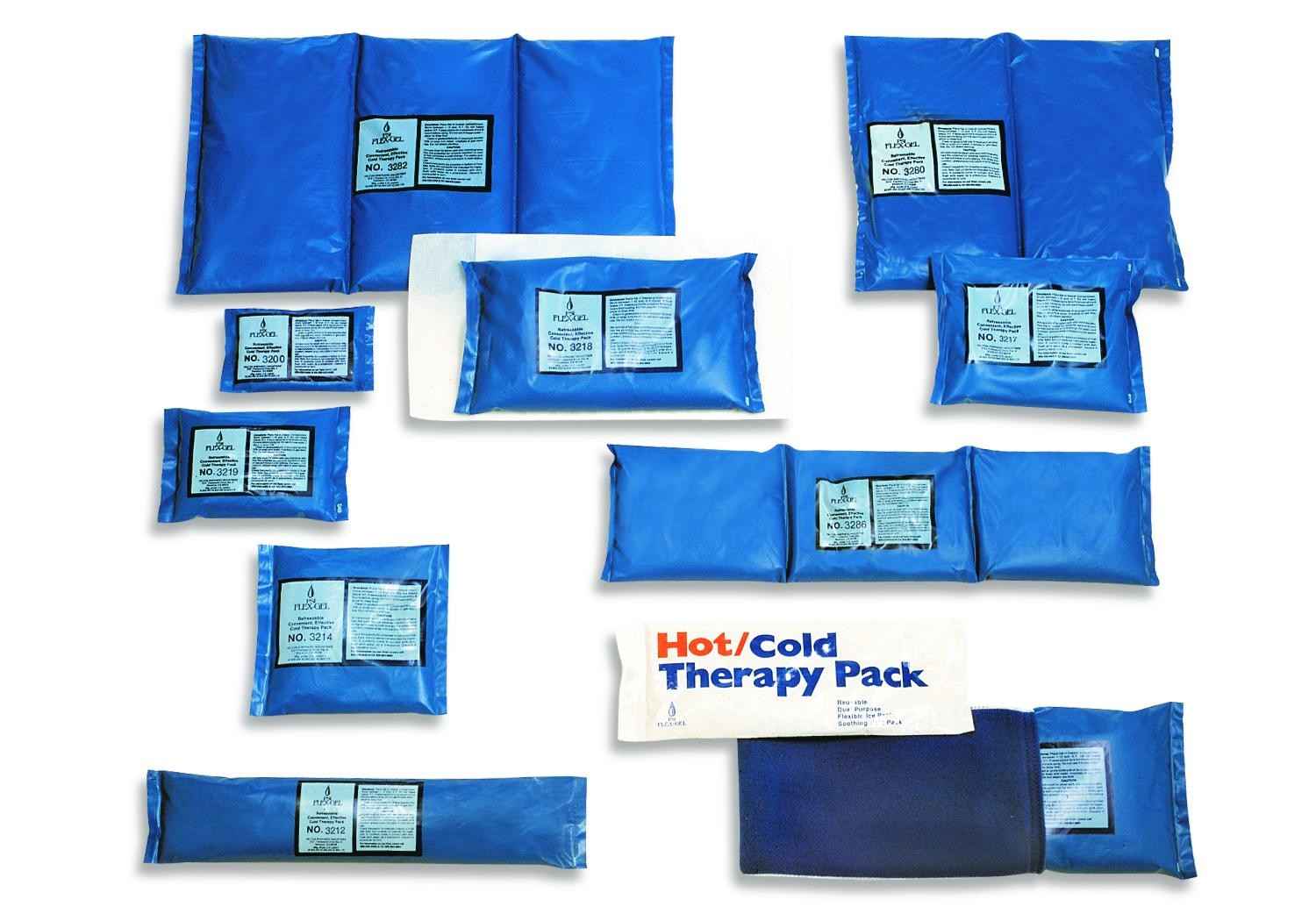 Premium Reusable Cold Packs
FlexGel
Designed for extended use, FlexGel™ packs are made from a unique, self-insulating plastic that remains flexible when frozen, and can be refrozen numerous times. Because they conform to the body, flexible packs provide excellent therapeutic impact. A premium exterior wrapping material makes these packs soft and comfortable to the touch.
FlexGel packs come in a wide range of shapes and sizes to effectively treat every area of the body. Larger packs are constructed of multiple sections to provide even greater flexibility. For safety, always place a barrier — such as one of our fabric covers — between the ice pack and the skin, and do not apply pack or longer than 20 minutes at a time.
In the unlikely event that the outer material of a FlexGel pack should be punctured, the interior contents are harmless to people and pets, and will not stain.
| | | | | |
| --- | --- | --- | --- | --- |
| Product Number | Description | Units per Carton | Cartons per Case | Units per Case |
| 3200 | Small (3″ x 5″) | 20 | 6 | 120 |
| 3212 | Throat / Perineal (3″ x 13″) | 4 | 6 | 24 |
| 3214 | Compact (5″ x 5″) | 6 | 6 | 36 |
| 3217 | (5″ x 8″) | 6 | 6 | 36 |
| 3218 | Standard (5″ x 10″) | 2 | 6 | 12 |
| 3219 | (4″ x 6″) | | | |
| 3222 | Cryo-Flex (4″ x 10″) | 2 | 6 | 12 |
| 3226 | Hot / Cold with cover (4″ x 10″) | 2 | 6 | 12 |
| 3280 | Large (10″ x 11″) | 1 | 6 | 6 |
| 3282 | Extra Large (10″ x 16″) | 1 | 6 | 6 |
| | | | | |
| --- | --- | --- | --- | --- |
| Product Number | Description | Units per Case | | |
| 6305 | Fits 3200 Flex Gel | 120 | | |
| 6510 | Fits 3218 Flex Gel | 24 | | |
| Polar Ice 6×6 | 6″ x 5-3/4″ | 48 | | |
| Polar Ice 6×12 | 11-1/4″ x 6″ | 24 | | |
| Polar Ice 10×15 | 14″ x 10-1/2″ | 12 | | |